Aren't I the Chatty Cathy today? LOL I just stumbled upon a few fun Friday-themed things and decided to go along. I find stuff like this fun, so I decided to play along. Plus, it makes up for the long stretches of silence I tend to have occasionally -
right?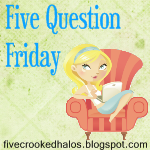 1.
Do you sing karaoke? If so, what is your go to song?
No. I do not sing karaoke. I LOVE to sing, but I'm too self-conscious. I almost NEVER let anyone (other than my kids) hear me sing - not even my hubby.
2. What is your favorite coffee drink?
I don't drink coffee - ever. HATE it! I like to say that Dr Pepper is my coffee. That said, I LOVE a chai tea latte. My favorite is from Panera, but Starbuck's will do in a pinch!
3. If you could choose your own name, what would it be?
Ha! I honestly don't know. I know that growing up I always hated my name - HATED it. My biggest problem with it was that I couldn't shorten it. I had friends named Melissa who went by Missy; friends named Jennifer went by Jenny; guys named Andrew went by Andy ... I hated that Heather couldn't be shortened. But, I don't know that I'd change it at this point. I am Heather - don't know if I could be anything (anyone?) else!
4. Were you ever bullied?
Not really - at least no one ever threatened me. BUT, I was picked on a LOT in grade and middle school. A LOT. I hated it - and I pray my children never experience anything like it.
5. How often do you eat fast food?
Way too often. At least a couple of times per week - and that's on top of going out at sit-down places! But, I'm still losing weight, so I can't be doing
too
badly, right?
~~~~~~~~~~~~~~~~~~~~~~~~~~~~~~~~~~~~
This was fun, and I think I'll do it again next week - assuming I remember! LOL Wanna play, too? Here are the rules:
Copy and paste the questions into your own blog, putting your own answers in (of course). Add your link in McLinky (below), and make sure to link back to
Mama M
. Have fun!