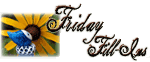 1. I love to go to
bookstores
because
I love to read and I love seeing what all is out there that I haven't noticed before – or drool over books I really want but know there's no way I have time to read them
.
2.
It's not the quantity,
it's the quality!
3. The last thing I had to eat was
umm ... oh, yeah, Noodles & Company Mac & Cheese with truffles, mini-portabellas, etc. YUM
.
4.
Cash
is no longer essential.
(I mean physical cash. Debit/ATM cards make it so easy to get by without nowadays!)
5. Please take a moment to
count your blessings
.
(It's so easy to get caught up in our complaints and dreams that sometimes we forget to be thankful for what we do have or where we are in the present.)
6.
Your convictions
have brought you this far.
7. And as for the weekend, tonight I'm looking forward to
having Mr. Ham home FINALLY
, tomorrow my plans include
hanging out ALONE at the library (or somewhere else quiet) while Abby has a watercolors class
and Sunday, I want to
read, relax, and recover from this week alone (with the kids, of course)
!