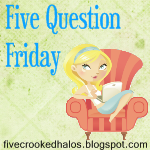 1. Do you think cursive writing is overrated? (Schools in Indiana have now voted to take teaching cursive writing out of their curriculum.)
Um, no. Definitely not. I think it's horrible that schools are starting to take that out of the curriculum.
2. Do you still use a pocket calendar or notepad or do you keep your info on your smart phone?
If we're talking about keeping track of appointments and stuff, I use Google Calendar.
3. What 3 things would you save if your house was burning down? (family & pets are already safe)
My computer, our wedding album, and DH's computer (where most of the kids' pics are).
4. Country Mouse or City Mouse, err Person?
Suburban mouse – er, person.
5. If you could pick ANY reality show to go on, which would you pick?
Dancing with the Stars. (Does that count as reality TV?) I know I'm not a star, but ballroom dancing is so much fun!
Wanna play along? Go
HERE
.