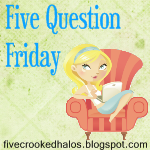 1. H
ow many pets do you have?

Three: Two cats (Huckleberry and Zeus) and one dog (a beagle named Sawyer)

2.
If you could switch places with anyone in the world for one day, who would it be?

I honestly can't think of anyone. I like my life.

3. What is
your favorite money saving tip?

Using coupons can make a big difference.

4.
What do you want your kids to be when they grow up?

Something they enjoy – not enjoy but are passionate about. It makes a difference to love what you do. In addition to that, it's gotta pay the bills and keep them fed. ;-)

5. W
hat is your favorite quote?

I have a lot of them, really. One of my current favorites:
"One must always be careful of books," said Tessa, "and what is inside them, for words have the power to change us."
— Cassandra Clare (Clockwork Angel)
Wanna play? You can find Mama M.'s post and linky
HERE
.