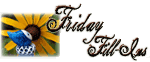 It's been awhile, but I am making the point of taking more time for this blog. And now on with the show ...
1. Music
is my passion
.
2.
More sleep
is what I like first thing in the morning.
3. The first thing I said this morning was:
"Don't wake up Grandma"
.
4.
Pizza?
; it's what's for dinner tonight.
5. It's all been
fun
6.
Nothing
is what I feel like doing right now.
7. And as for the weekend, tonight I'm looking forward to
reading and hopefully watching more Grey's Anatomy
, tomorrow my plans include
laundry, more reading, vet appointment for the cat, and more Grey's Anatomy
and Sunday, I want to
read some more, watch more Grey's (I have two discs on hand right now), finish laundry
!
If you want to play along, you can find this week's thread
HERE
.