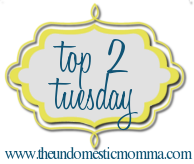 This Week's Topic:
Top 2 Songs on your Ipod
My Response:
TWO? You want me to give you TWO? So not possible! I can't even tell you my top two ARTISTS. I just love music too much for that. But, I'll give it a go.
1. I'm Still Yours by Kutless ~
What can I say about this song? I can't listen to it enough. (Technically, I don't think it's on my iPod yet, but it will be – when I get around to copying it off the CD.)
2. How to Save a Life by The Fray ~
Love this song.
Only sharing two is somewhat painful for me. I often say that music is my passion, and that's really not an understatement. I LOVE music.
If you wanna play along, there's a linky
HERE
.