I wasn't able to post this yesterday, but I'm having too much fun with this Blog Journal event to let that stop me! ;-) Yesterday was about weddings. It's a chance to share photos/stories from our weddings. I definitely have a story. Not sure about pictures ...
This is me before the wedding: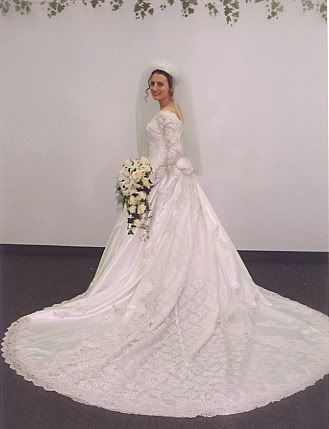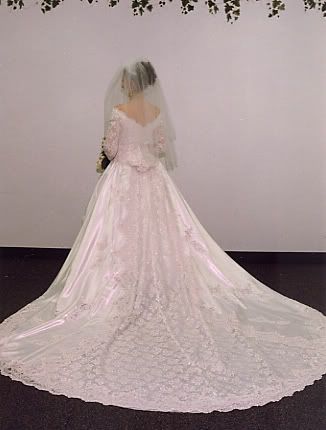 My mom and me before the wedding: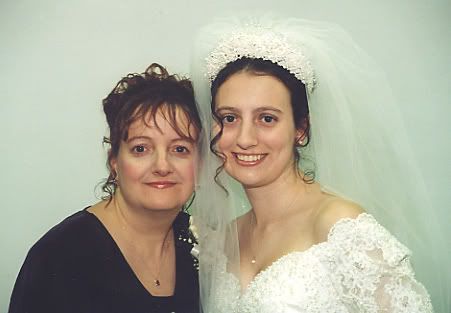 Mr. Ham and me right after the wedding: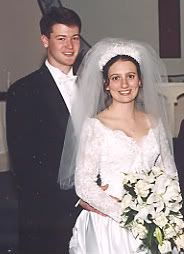 And me at the reception: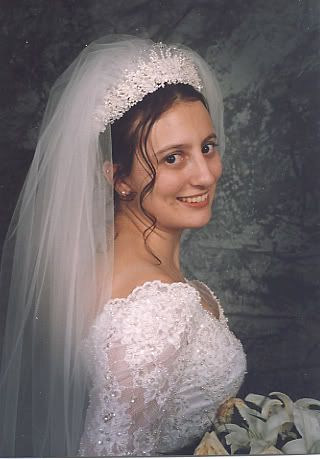 Unfortunately, that's all I have on photobucket. The rest is still in the album – this was done before photogs were using digital! ;-) I don't have time to scan others in.
The main story of our wedding was the weather. We were married on January 2, 1999. We lived in the Chicago area, and anyone from anywhere within a couple of hundred miles of there likely knows what that day was.
Background: December of 1998 was unusually nice. I remember relatively warm temps as recently as a week before my wedding. I remember going to bed the night before and there not being much snow. I must've heard of the impending storm, because I know the FIRST thing I did when I woke up. I looked outside. We had been SLAMMED with snow overnight. There was TONS of it. It's what we Chicagoans call the
Blizzard of '99
. It was absolutely NUTS. My sisters and I got stuck in the snow about a block from our house on our way to get our hair done. One of my sisters ran back to the house, and I remember my dad, my uncle, and my brother-in-law running our way with shovels! LOL They dug us out, and we decided only to take major roads. Fortunately, the salon was in a major shopping center in Wheaton. My hairdresser said she had her husband on standby with his four-wheel-drive truck to get us there if needed! LOL
The snow, the storm, the weather. Many, many – nah, most – of our guests weren't able to come. Including important family members. It was sad not to have them there, but we totally understood. Amazingly, all of the people who had a part in our wedding were there. Every last one of them. One of my bridesmaids had to dig out the entire alley on her block to get her car out, but she did it! LOL At the end of the festivities, our photographer told me that we must be really special because we had a GREAT showing for the way the weather played out! That meant a lot to us to hear.
That storm ushered in a NASTY cold snap, and the temperatures were the coldest I remember in a long time. There was so much snow, ice, etc. that even O'Hare Airport was closed for a couple of days. (That is almost unheard of!)
The funny thing is people we'd meet at friends' and family functions all knew about our wedding. We'd meet someone, and our wedding would come up, and they'd say "Oh,
that
wedding!" LOL We were famous – sorta! ;-) We still hear that sometimes, but nowadays it's usually, "You were married during
that
storm?" It's definitely a day most Chicagoans will remember.
~*~*~*~*~*~*~*~*~
Head on over to
Toddler Awesome
if you wanna play along and/or read others' blog journals. Next up: What are you afraid of?